In a modern nail salon one can get just about anything to make their hands and nails look beautiful and well taken care of. It is my goal to make any customer feel comfortable and satisfied while experiencing a high quality of service.

I dedicate the necessary time to all of my clients to assure all receive the best service that they deserve.  To keep the good look of your hands and nails after leaving my salon, there are few things that can be done until your next visit.
If you break a nail or if a nails begins to lift, pick up the phone and call me to make an appointment to get that broken nail fixed right away


Please do not try to fix it yourself because if the nail is not glued down right, moisture can be trapped between the nail and the enhancement and can cause an infection


Do not take down the length of your enhancements as this will through off the balance of the nail and make the nail look bulky


Protect your nails by wearing gloves when cleaning or working in the yard


Apply and massage in  cuticle oil to keep your cuticles moist and smooth


Most importantly, if you decide you no longer want to wear nail enhancements, do not take them off yourself. Picking and pulling the nails off will damage your natural nail, rip layers from your nail plate, and make re-growth a long and painful process. Call me instead and let me remove your nail extensions the save way.
Nail Art is the practice of decorating fingernails using a variety of nail art designs, ranging from subtle and understated to funky and outrages but still interesting and beautiful. There are many different things available to create those beautiful Nail Art Designs, such as different colored nail polished, rhinestones, glitter, nail dangles, airbrush design, and much more.

I specialize in creating Airbrush Designs, in combination of glitter, rhinestones, fimo clay, and other nail art articles.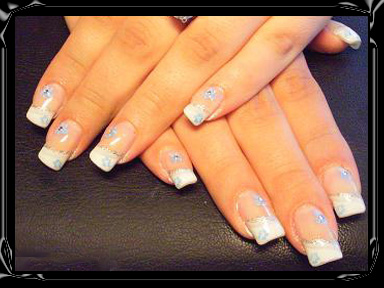 All images provided on this site are created by me, Kay C. 2004-2009